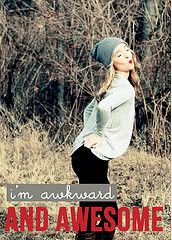 Awesome: This print from here. They are saying the shop closed but I hope not... I would love for that to be in Channing's room one day!
Awkward: My Sally Hanson AWESOME Insta Dry BLUE nail polish dying my toe nails blue after I removed it last night... HUMMM now I have to paint them a color that will cover that up for sure!
Awkward: The coffee saleslady that kept calling our office after we repeatedly ignored her call and then when she tried calling us from a different number. OK, psycho saleslady, that's not the way to get us to buy coffee from you!
AWESOME: My friend Shelby from
Fort Worth Fab
@ 26 weeks preggo
ROCKING the maxi skirt!
How cute is she with baby girl Sloan Vivian in her belly?
AWESOME: The Plug (pacifier) side hold!
AWESOME: My hair was like this on Monday for over half of the day when Channing was sick. I got it finished during the afternoon nap! Now that is AWESOME!
AWESOME: The pillow I re-did by taping it off and spray painting it! I finding stencils for the other three! I am SO proud of this!
AWESOME: Channing letting me play dress up with her on Monday when she was sick! Thanks Aunt Tami for the outfit! SO classy!
Ashley's blog I found through Little Miss Momma's blog. It has an awesome concept. Basically to let your light shine to the world. She gives weekly challenges on her blog for ways to make someones day/week/month better. You never know who's life you could change with a kind word!!
Check her out...
It is pretty cool and encouraging!!
(Via)
Happy Thursday!!! We are ALMOST there!!!