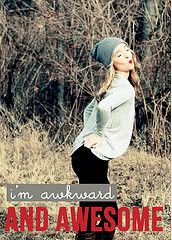 Awkward- Drama's 'man-dime' makeover on Rob Dyrdek's Fantasy Factory the other night!
Awesome- e.l.f cosmetics! Cheap and most of everything I have tried I have enjoyed to the max! YAY!
Awesome- It is almost FRIDAY FRIDAY FRIDAY! Chandler will HATE this little nugget of goodness I have posted below!
Awesome... Moomah
This was in the Daily Candy Kid's e-mail I get! This is what they had to say about Moomah:
Moomah the Journal
To NYC moms, it's the hottest
creative play cafe
in town. To us, it's home base for a game-changing parenting movement — one that encourages thoughtful, imaginative, and fulfilling interactions with your kids. Not in NYC? Moomah's founder, Tracey Stewart, just launched a
monthly journal
of ideas and activities to do at home that reinforce the spirit of her Tribeca hot spot.
(via)